Why You Should Avoid Black-Hat Link Building Tactics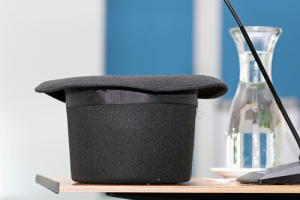 It's no secret that backlinks play an important role in where and how a website ranks in the search engines. While Google, Bing and Yahoo all used advanced ranking algorithms that look for hundreds of ranking "signals," backlinks remain one of the most influential. But there's a certain type of link-building tactic that you'll want to avoid: black hat.
Black Hat vs White Hat
Link building can be classified as either white hat or black hat, depending on whether or not it abides by the terms and conditions set forth by the search engines. White-hat link building involves techniques that abide by Google's terms, whereas black hat involves techniques that violate Google's terms. An example of black hat link building is using automated software to spam comments on blogs, including a link pointing back to the user's website. It's not exactly illegal, but it's certainly frowned upon by the search engines.
White-hat link building, on the other hand, involves natural links that DO NOT violate Google's terms. This generally means links that are acquired naturally and not purchased or acquired through incentive means.
RapGenius
Some people assume that Google is all talk when it comes to penalizing black hat marketers, but there are numerous cases in which the company has taken action to lower offending sites' rankings or even deindex them altogether. Take the popular lyrics website RapGenius, for instance. A couple years back, it was brought to the attention of Google that RapGenius was offering to tweet bloggers' links in exchange for them publishing link-riddled posts pointing back to their lyrics pages. Matt Cutts, Google's webspam team leader, confirmed that RapGenius had been penalized as a result of its link-building tactics.
"We are working with Google right now to resolve this. They've been really great, helping us identify changes we need to make, even on Christmas. We're working on it as fast as we can, and expect to be back on Google very soon," wrote RapGenius in an open letter to Google.
Of course, RapGenius isn't the only website to have been penalized for black-hat link building. Other offending sites include Forbes, Overstock.com, and JCPenny. Granted, most of these sites have recovered their rankings since they were initially penalized, but it's a long road to recovery that requires hard work and dedication.
Focus on White-Hat Link Building
Will your site get penalized for black-hat link building tactics? It's really a toss-up, as some sites may slip by Google's radar undetected, whereas others will receive direct hits. You have to ask yourself, though, is it really worth the risk? If you've invested dozens of hours into building your website, the answer is probably no. This is why it's recommended that webmasters and Internet marketers focus strictly on white-hat link building tactics.
What are your thoughts on black-hat link building? Let us know in the comments section below!
Summary
Article Name
Why You Should Avoid Black-Hat Link Building Tactics
Description
Do you know the difference between black hat and white hat link building? Read on to learn and which strategy you should use.
Author