Beware: These Link-Building Tactics May Harm Your Rankings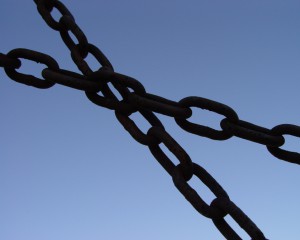 Few elements hold as much influence over a site's search ranking as backlinks. Since the dawn of the Internet, search engines have relied on backlinks to help determine where and how to rank websites. But this doesn't necessarily mean that all backlinks are good. On the contrary, some may have a negative impact on your site by lowering its search rankings.
Site-Wide Template Links
If you've ever experimented with some of the free WordPress themes, you may notice footer links in some of them. The theme's developer sells "link placements" here, allowing other websites to include a link in the theme for a fixed price. It may cost $10 for a footer link or $100, depending on the developer's specifications. Nine out of ten times, though, side-wide template links such as this will only hurt your website's search ranking, so avoid using them.
Excessive Reciprocal Linking
There's nothing wrong with exchanging links with other websites in your niche/topic, but you should keep them to a minimum. Google recently added "excessive link exchanges" to its list of link schemes, meaning webmasters who engage in this practice could suffer the consequences of lower rankings. If you're going to exchange links with another website, make sure the website is closely related to your niche and keep your reciprocal links to a minimum.
Links From Un-moderated Websites
Obtaining a link from a blog, forum, guest board or some other website that's not moderated might be easier, but it could also hurt your search rankings. If there are no admins or other staff to moderate links posted by visitors, chances are it will quickly fill with spam. Google will then notice the enormous amounts of spam on the site, devaluing any links on it — and that's a best case scenario. Worst case scenario is that all of the linked sites will get hit with a penalty, dropping their rankings even further back in Google's search index.
Buying Backlinks
The allure of obtaining a high-PR backlink for X amount of dollars may sound enticing, but you should refrain from purchasing links. Google has really stepped up its efforts to combat paid links in recent years, penalizing offending sites and their partners. Granted, you may get away with a few paid links, but Google will eventually catch on to this tactic. You have to ask yourself: is it really worth risking my site's search ranking just to acquire some links? Hint: the answer is no.
Automated Software
This may sound like common sense to most seasoned webmasters, but it's still worth mentioning that you should NEVER use automated software or programs to create backlinks. I'm not going to name any specific programs, but there are several major programs that have been around for years now. Avoid the temptation to use them, build links to your site manually instead.
Have you noticed a negative impact on your site's rankings after engaging in one of the aforementioned link-building practices? Let us know in the comments section below!
Image attribution: https://www.flickr.com/photos/clearlyambiguous/
Summary
Article Name
Beware: These Link-Building Tactics May Harm Your Rankings
Description
Backlinks are important for search engine rankings but avoid these tactics or you risk lowering your site's ranking.
Author