Building Backlinks Through Press Releases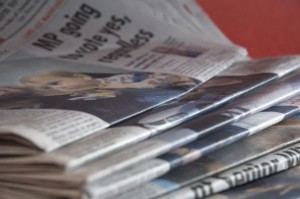 When done correctly, press release remain a safe, time-tested method for generating traffic and backlinks. Unlike traditional article directories, press releases are typically restricted to news-worthy announcements, such as the expansion of a business, the introduction of a new product line, etc. At the end of the press release, the author can typically include a backlink to the respective company's website.
Some webmasters automatically turn their heads at the thought of using press releases, assuming they have no news-worthy announcements to make. The truth, however, is that even single-person businesses and entrepreneurs can publish press releases. Some news-worthy ideas to consider include a site redesign, product pricing changes, philanthropy work with nonprofits, sustainability practices, etc. You have to think outside of the box when writing a press release, which is probably why so many business owners overlook this platform.
Like most backlink building techniques, however, press releases can either help or hurt your site's search rankings. Blindly publishing hundreds of generic, low-quality press releases for the sole purpose of building backlinks isn't going to work. In the past, this may have boosted a site's rankings. But we live in the era of ever-evolving search ranking algorithms, and Google has since caught on to this manipulative behavior.
In 2013, Google updates its list of link schemes to include "Links with optimized anchor text in articles or press releases distributed on other sites." Does this mean you should avoid using press releases as part of your link building strategy? Not necessary, as Google's statement specifically covers "optimized anchor text," meaning standard links are perfectly acceptable.
Instead of using anchor text backlinks in your press release, only use your site (e.g. yoursite.com or www.yoursite.com). Doing so will prevent Google from flagging your press release as spam; thus, boosting its beneficial effects.
There are a few other things you should know when submitting press releases, one of which is to choose your distribution outlets wisely. Avoid submitting press releases to distribution sites riddled with spam, as your site may get flagged as such. Instead, choose distribution sites that are heavily moderated with strict guidelines. You may have a harder time getting your press release approved, but the extra work will prove well worth it in the long run.
What are your thoughts on press releases? Let us know in the comments section below!