Google's Unnatural Link Warning: What You Should Know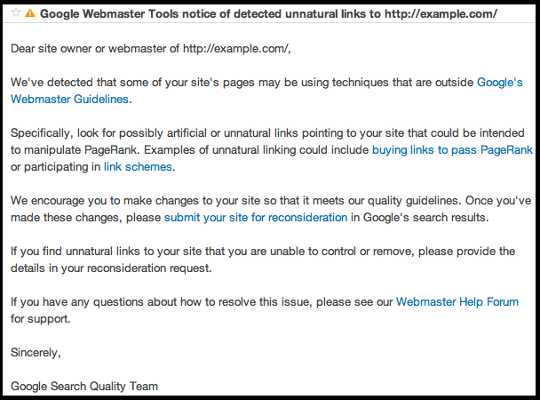 Have you received an unnatural link warning from Google? It's disheartening when you invest countless hours of your time into building backlinks for your site only to discover this message in your Webmaster Tools account.
There are several different variations of the unnatural link message sent out to webmasters. One of the most common, however, is the following: "We've detected that some of the links pointing to your site are using techniques outside Google's Webmaster Guidelines. We don't want to put any trust in links that are unnatural or artificial, and we recommend removing any unnatural links to your site. However, we do realize that some links may be outside of your control. As a result, for this specific incident we are taking very targeted action to reduce trust in the unnatural links. If you are able to remove any of the links, you can submit a reconsideration request, including the actions that you took. If you have any questions, please visit our Webmaster Help Forum."
After going over this somewhat ambiguous message, it's easy to feel lost or confused as to why your site is being penalized. Taking a closer look, however, you'll see in this particular message, and many others, that it's focused on penalizing the website in question due to link building strategies outside of Google's Webmasters Guidelines.
In the past, you can churn out backlinks by the thousands using automated software to help boost your Google rankings, but these days are long gone. While some of these spammy techniques still work for Bing, Yahoo and other second and third tier search engines, they will have the opposite effect in Google. Generally, you'll want to stay away from the following link building practices:
Purchasing site-wide footer links
Reciprocal link exchanges
Article directories
Links on irrelevant pages and sites
Blog comment spam
Sites with an excessively high number of OBL
Paid links
Web 2.0 property spam
Avoiding the link building strategies listed above should keep you clear of the infamous "unnatural link" message in your Google account. Of course, it's still recommended that you frequently run backlink reports to see what sites and pages are pointing back to your website. If a spammy page decides they want to give your site a backlink, you'll need to use Google's Disavow Tool to reduce its impact. This tool is essential to maintaining a healthy, Google-friendly site, so take a few minutes to learn it.