WhyIStartedABlog.com – Traffic through natural link building
Good Morning!  Today is day 1 of our case study for WhyIStartedABlog.com.  We will profile this site for the next year.  Our goal is to discover the natural link building techniques used to grow this site from invisible to unstoppable.
A few facts:
This is a new domain.  It has never been used before.
The domain has 0 authority and 0 links to it.
The content is all fresh.
There will be no ads on it
There will be a couple simple affiliate links
Strategy:
Use preciprocity to build Profile posts that link to well run blogs.  The profile posts will be an interview with a successful blogger.  We will hope that the blogger will publicize the post using social media and a link if appropriate.  However, we will not request this directly.
Attached is a screen shot from Moz showing where we are starting….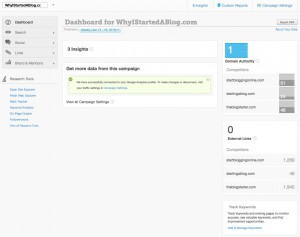 And just in case you think there is some traffic…..well, there isnt.

So, kick back and enjoy the journey…it will be a few months, but worth it.